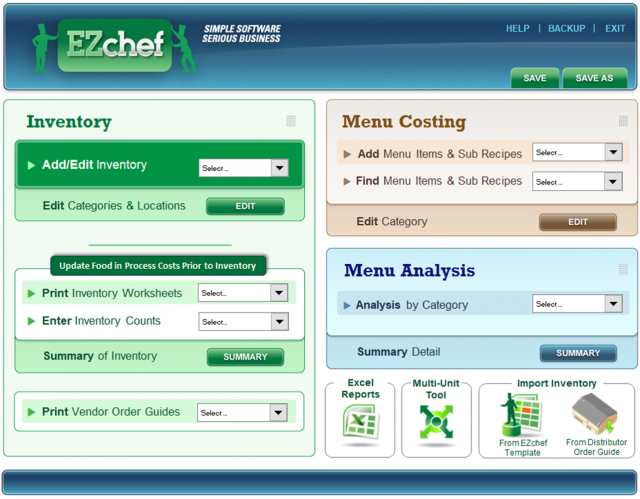 EZchef Software: Inventory Management, Menu Costing and Analysis for Restaurants
EZchef is a powerful, intuitive and easy to use Excel 2007, 2010, 2013 or 2016 (Windows based*) program designed to simplify your food and beverage inventory tasks, create fully costed menu items and sub recipes, and use menu analysis as a tool to maximize your bottom line profit.
Only $289
How to Design an Appealing Menu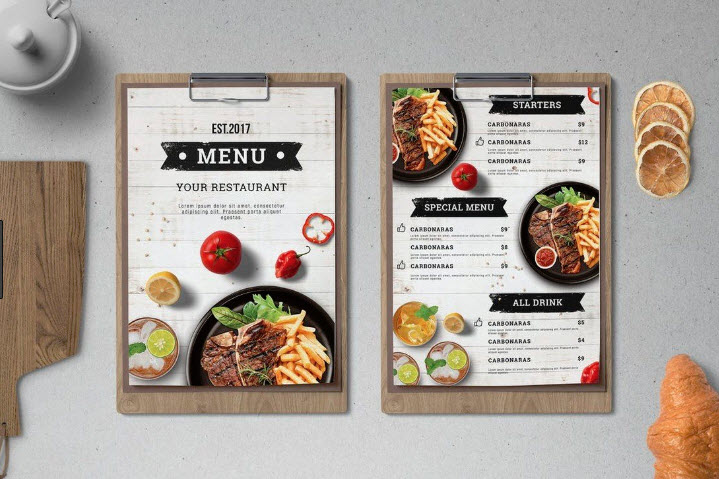 Know the Golden Triangle.

When most people look at a menu board, their eyes typically start in the middle, then move to the upper right corner and then the upper left corner. This is known as the "Golden Triangle," and you should use this to your advantage. Position your most profitable menu items within the Golden Triangle on your menu board and watch your business improve.
Color is essential.

Color theory is the study of how colors influence our moods, and menu boards should be designed with it in mind. For example, green helps customers envision fresh ingredients. Orange and yellow have been found to boost appetite. Red grabs people's attention.
Order by importance.

Don't always save the best for last when you have a number of menu items in the same category. Put the items of which you want to sell the most in the first few spots, or at the bottom. People tend to gloss over the middle portion of a menu and focus on the top and bottom of the list.
Skip the dollar signs.

Prices provide important information, but including dollar signs can be a turnoff for customers. Displaying the price as "10.95" rather than "$10.95" subconsciously softens the blow of the cost. That makes your customers more likely to focus on how good their food will taste rather than its price.
Use decoys.

In the world of restaurant menus, a decoy is a higher-priced item placed on the menu to make other items look like a bargain in comparison. This is typically employed by upscale restaurants, but quick-serve restaurants also can use this trick.
Visual aids work wonders.

Even if you have well-written descriptions of your menu items, customers may be wary of taking a chance on an item if they can't see what they're getting. Make sure you have pictures of your highest-profile menu items to help push customers in their direction.
WAND.com has worked hard to create digital menu technology specifically designed for multi-unit restaurant operators. WAND prides itself on being the market leader in enterprise digital menu technology - providing the best digital menu boards available for quick service and fast casual restaurants.